Custom Area Rugs
If you are looking for a new accessory for your home that is both stylish and functional, then consider taking a look at our collection of area rugs. An area rug can protect a floor, absorb sound, and add comfort all at the same time. There are area rugs that can add a subtle accent, or can be the main focus of a room. Area rugs are able to adapt to different rooms because they are easy to place in any space and can be moved, rotated, or removed from a room if desired. Our collection of area rugs includes many different shapes, sizes, fiber materials, textures, colors, patterns, and more.
At Weyburn Carpet One Floor & Home we offer custom rugs for your home. Custom area rugs allow you to control how your rug will look, which means you can choose something to complement your home décor or create a statement piece. We offer a collection of affordable area rugs and stair runners to add to your home.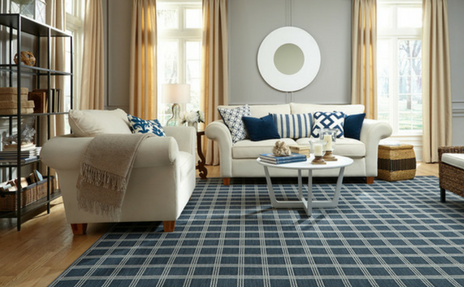 Choosing an Area Rug
There are no hard-set rules about choosing a shape or size to coordinate with a room's design, but a good general tip we like to give is to measure your walls and subtract 3 feet from each side. This creates an even border around your floor for a simple, but attractive design. Another sizing factor you should consider if you want the furniture on, or off, the rug. This helps to define a space for gathering when you have guests.
You can place an area rug anywhere in your home. You can choose to have one at every entrance of your home, in a living room, under your dining room table, and even under your bed. Area rugs are not limited in where they can be placed, and some homeowners will place them over carpeting.